2019, Artis Breau prevented from leading Bible study
The 84-year-old Vet widow Artis Breau would face "involuntary discharge," or expulsion from the Veterans home unless she stops volunteering as Bible study leader. Artus led Bible studies and invited other residents of the home for the last ten years. It stemmed from one resident who couldn't sleep thinking about heaven and hell. CalVet (California Veterans) deemed it as "elder abuse, emotional abuse, and otherwise illegal." (Fox News)
2019, POW Bible on display unconstitutional
A Bible was donated by a World War II veteran when Paul Martin and his organization, the Northeast POW-MIA Network, put together the missing man display in 2018. An outside group asked the VA to remove it, calling its presence intolerable and unconstitutional. A lot of soldiers during the war were Bible-believing men who found hope in God's word. But the Military Religious Freedom Foundation, "That is still a Christian Bible."
2019, Girl and Boy Scout politically appeasing policies
The Girl Scouts of Southern Arizona awarded Meghna Gopalan the Gold Award (the highest GS Award) for her project on "reproductive health justice." Meghna's project basically justifies "abortion on demand," and she was praised for it (Tucson Life). In the same month, Boy Scout of America formally accepted girls in their organization and tweaked the name to make it politically tolerant. For 108 years, their flagship program has been known as "Boy Scouts." With girls soon joining, the iconic name has to change. (NY Post)
2019, Pure Flix Movie rated-R
Pro-life movie "Unplanned" produced by Pure Flix received an R-rating from MPAA for its abortion scene. The film is based on a true story of "former" Planned Parenthood Clinic Director, Abby Johnson. Ironically, "A 15-year-old girl can get an abortion without her parent's permission but she can't see this movie without adult supervision?" said Ken Rather, Pure Flix executive. However, if the abortion scene was deleted, it would be given a PG-13 rating. MPAA's double standard is evident in movies such as 'Happy Death Day 2,' 'Miss Bala,' and 'Glass,' all of which received PG-13 ratings, despite having "killings, murders, and deaths." (CNS News)
2019, Senator supports "infanticide,"protects kittens
Several states have passed a horrific law that allows an abortionist to kill a fetus, even if the baby had already been born alive, hence the term "infanticide law". Sen. Jeff Merkley (Democrat) voted "against" the Born-Alive Abortion Survivors Protection Act. Ironically, he is sponsoring a bill that would protect "kittens" from being killed after they are used in research. "…slaughter kittens after they are used in research is an archaic practice and horrific treatment," he said. (The Blaze)
2019, in United Airlines
The United Airlines carrier wants to "build the world's most inclusive airline." In line with this, they now offer a non-binary gender descriptor. This means that gender is no longer classified as male or female. Instead, it will be Mr., Ms., and Mx. The third option is for customers who may be offended to be referred to by their biological sex and would rather have undisclosed or unspecified sex or gender pronoun. UA is proud to be the first U.S. airline to offer these inclusive booking options for our customers." Other US airlines have agreed to do the same. (Cision)
2019, Council members praying "in Jesus name" unconstitutional
Mount Sterling Village outside Columbus, Ohio has councilmembers under fire for its age-old tradition of praying during meetings. Freedom From Religion Foundation (FFRF) said it is forcing religion on its citizens by saying a Christian prayer. Similarly, Rowan County in North Carolina paid $285,000 in legal fees in 2019 to the American Civil Liberties Union (ACLU) after losing a case. In 2013, ACLU sued the county because a few citizens felt excluded by the Christian prayers said by some commissioners. ACLU said the prayers violated the constitution. (Salisbury Post)
2019, Unconstitutional religious painting
Teachers at Lee elementary school in Mississippi were forced to remove religious displays in their classrooms after the Freedom From Religion Foundation (FFRF) complained. The atheist foundation alleged that the school had "multiple unconstitutional religious displays." The teachers were ordered to take down religious items such as crosses, angel figurines, and anything with Scripture on it, including painting and bookmark. (FFRF)
2019, American flag on Police logo is too aggressive
Laguna Beach Police had a new star-spangled logo on the sides of its patrol vehicles. Some residents found it offending. One said "I thought the aesthetic didn't really represent our community, it feels very aggressive." Attorney Jennifer Welsh Zeiter questioned the loyalty of those objecting the American flag display. Apparently, anything about being a "nationalist" is associated with President Trump and liberals cannot see their biases. (LA Times)
2019, San Francisco School District wants offensive George Washington paintings removed
A group at the San Francisco Unified School District wants to remove two paintings of George Washington to protect the students. The 83-year-old murals at the George Washington High School in Northern California are offensive to Native Americans and African-Americans, the group claims. It "traumatizes students and community members" because it depicts George Washington with a black slave and a dead native American. Ironically, the artist's purpose was to portray the slaves and natives with humanity, not to glorify him. (Wall Street Journal)
2019, Father will be arrested for calling daughter girl
As reported by Tyler O'Neil on PJ Media, "Last month, the Supreme Court of British Columbia issued an order that a father (referred to by the pseudonym 'Clark') may not refer to his 14-year-old daughter (pseudonym 'Maxine') as a girl or by her original name, whether in public or in private. Doing so has been ruled to constitute 'family violence' because Maxine identifies as a boy. According to a separate protection order, the police may immediately arrest Clark if they suspect he violated this Orwellian order."
2019, "So help me God," removed
Since gaining the majority, Liberal Democrats in the USA are changing House customs, like omitting words from a swearing-in oath. "I think God belongs in religious institutions… but not in Congress," said Representative Cohen of Tennessee, chairman of Judiciary Subcommittee on the Constitution, Civil Rights, and Civil Liberties. "And God doesn't want to be used," he added.
2019, Cartoon character Arthur marries same sex
Arthur's was created in 1992 to give a positive influence on children. It is an aardvark who demonstrates to kids how to deal with childhood traumas and challenges as homework, teachers, and bullies. In what they call as "diversity," the producers introduced a same-sex couple to "educate" children. In this episode, everyone thought Mr. Ratburn, Arthur's strict cake-loving teacher would be marrying Patty. When the kids arrived at the ceremony, they see Mr. Ratburn marrying a male partner. Patty is his sister.
2019, Gay marriage in kid's cartoons
Democrats introduced a bill that forces public schools to allow transgender male athletes to compete as females. The rule was simple, if a man identifies as a woman, he can join what used to be a biological female or girl's sports group. Although it is unfair for women, leftists insist that gender is no longer just anatomical or biological. "Letting men compete as women simply if they change their name and take hormones is unfair," says Martina Navratilova.
The move is fuelled by extreme political correctness and diversity that has shaken gender roles. As a result, the blurring of sexes is so crazy that some LGBTQ activists refer to a gay transgender penis as "biologically female penis." They argue that it is unscientific to refer to only two biological sexes. The Bible tells us that although these unbelievers claimed to be wise, they became fools.
2019, Peace Cross honoring Christian soldiers is unconstitutional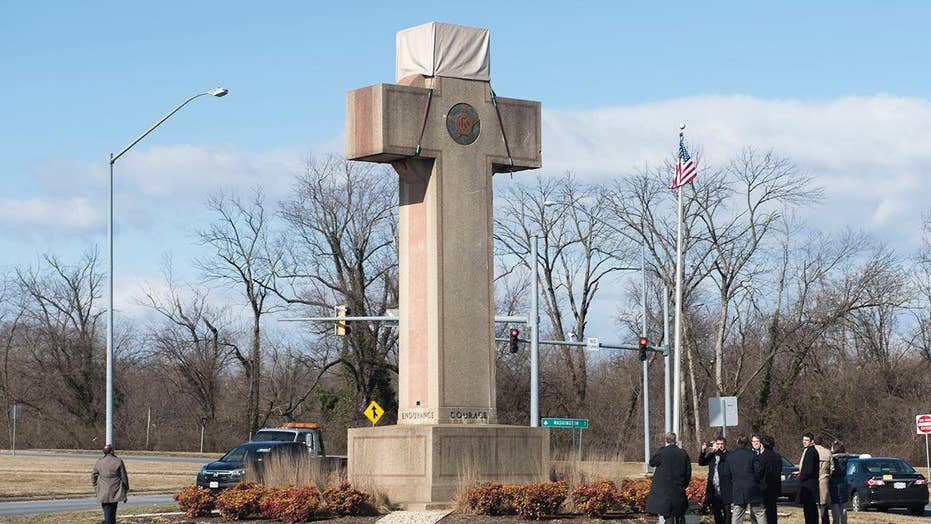 2019, The cross is offending
For almost a century, the Bladensburg Cross, Washington, has been the symbol of courage at the loss of the young men who gave their lives to fight for peace. The American Legion built it in 1925 to honor 49 local men who died serving in World War I. In 2012, some residents sued authorities because they were offended by the government's endorsement of religion using taxpayer money to maintain it.
In June 2019, the Supreme Court on a 7-2 decision ruled it does not violate the Constitution. Although the cross has its roots in Christianity, it is marked "indisputably secular," similar to trademarks of companies like Blue Cross and Bayer. Atheist Justice Ruth Bader Ginsburg was the most outspoken against it.
DISCLAIMER: All views expressed on this website are the personal opinion of the author and not the entity, person, or product that may appear or cited in this blog. Likewise, all links or references shown here do not necessarily share the same views as the author. Send us your comments and suggestions.