A new gospel of heresy led by trans pastors, gay, lesbian leaders in apostate Christian churches
Kris to Esther's ceremonial rite of passage
Kris Loewen was born male. He was a youth and family pastor who is married with a biological woman. Lowen claims God is a woman, or at least a female of some sort. In 2021, he posted on his Facebook that he was now a (transgender) woman chrisetened 'Esther.'
In 2022, Kris who is now Esther invented a "ceremonial rite of passage" to celebrate her gender transition. A pastor of La Sierra University Church with annoited her with a mixture of oil and ash on his forehead.
Methodist minister appears as a drag queen
In 2021, Methodist minister Rev. Craig Duke demonstrated solidarity with the LGBTQ by appearing as a drag queen in the HBO reality "We're Here." It was also his way to support his pansexual daughter.
In 2020, a transgender boy was baptized at a Universalist church to transition to his preferred female gender; he was nine years old then. The list of apostate "woke churches" and trans pastors is growing, redefining scriptures.
Lutheran Pastor Nadia Bolz-Weber
Nadia Bolz-Weber described herself as potty-mouth and referred to herself as a "dyke." She is also ridden with tattoos. In 2018, Nadia retired from the "Pop-Christian church," House for All Sinners & Saints. According to Pulpit & Pen, the pastor who replaced her married a drag queen named Fruit Bomb.
→ Not everyone is God's child?
1 Corinthians 6:9-11
Do not be deceived: neither the sexually immoral, nor idolaters, nor adulterers, nor men who practice homosexuality, nor thieves, nor the greedy, nor drunkards, nor revilers, nor swindlers will inherit the kingdom of God…
ELCA ordains lesbian, transgender people Asher O'Callaghan and Megan Rohrer to Pastoral position
In 2010, Megan Rohrer and six other gay and transgender became pastors at ECLA. She is a lesbian turned transgender male, "social justice activist," and pastor of Grace Evangelical Lutheran Church in San Francisco. She is considered the first openly transgender minister.
In 2015, the ECLA (Evangelical Lutheran Church of America) ordained female to male transgender Asher O'Callaghan. He had a Master's degree in Divinity and served at a Lutheran Church in Colorado.
"…We truly are living in a new day. Being a woman but thinking you are a man is not living life as your fullest self," he said.
→ LGTBQ bullies attack Christian bakers.
Calvary Baptist Church ordains Allyson Robinson, a transgender woman, to Gospel ministry
In 2014, Calvary Baptist Church in Washington ordained Allyson Robinson to the gospel ministry. A biological male, Robinson is openly transgender and had reassigned surgery. She studied in a seminary and pastored at a church in Texas as a man previously.
"I prayed for 25 years of my life since I was old enough to know how to pray, that God would fix me," Robinson said. She learned to accept herself rather than commit suicide. The church, led by married lesbian co-pastors, embraced her sexual orientation.
→ Drag Queen teaches a gay lifestyle to kids.
Lutheran church ceremony for Pastor Rose Beeson to Reverend Peter Beeson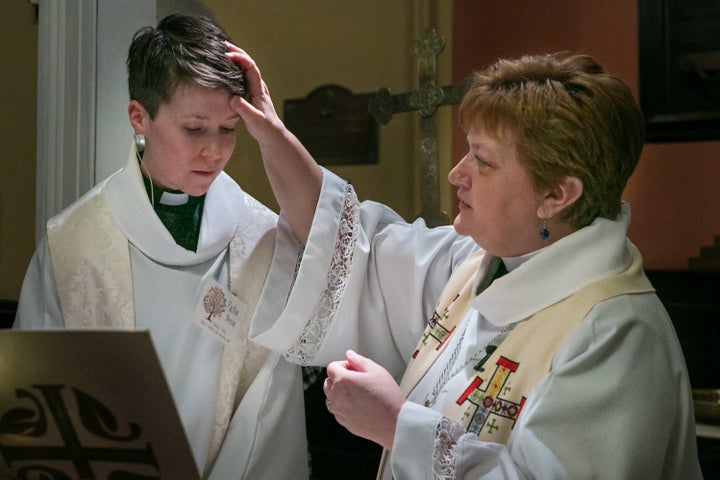 St. Matthew Trinity Lutheran Church (ELCA), New Jersey, celebrated in 2018 what to them is a sacred "renaming ceremony." Rose Beeson, one of their Pastor, is a biological female. They took her coming out as formality akin to Jesus' changing Simon's name to Peter.
She was given a cap in the ceremony and bestowed a new name, Rev. Peter Beeson. They did this to demonstrate the "expansiveness of God's compassion."
→ Drag Queen alphabet was introduced to minor children.
Historic North Carolina Baptist church hires Erica Saunders, its first openly "trans-pastor."
In 2019, Peace Community, a Baptist church in North Carolina, ordained biological male Erica Saunders to a gospel ministry. She first came out as a freshman while studying for her master's degree in Divinity.
There were 16 candidates, and Erica stood out with her bright, compassionate, faith-filled, and "spirit-led" presence. The church was part of the Southern Baptist Convention (SBC) but left with other LGBTQ affirming Baptist groups.
→ Christian's response to SOGIE Bill?
Latina Nicole Garcia, the first evangelical transgender pastor at Westview Lutheran Church
Michael Garcia was a corrections officer, married for eight years before they divorced. Garcia struggled with his sexuality for years. "I had my come-to-Jesus moment," he said, and after therapy sessions, he knew what to do. He stepped out to become Nicole Garcia.
The Lutheran church embraced her transition. Eventually, she joined the group's National Board of Directors as their transgender representative. She also attended a seminary school before her ordination in 2019.